Designed on the principle that a sports car doesn't have to ride harsh or uncomfortably to still perform when pushed to its limits. That means whether you are getting to the track, chasing times on course or picking up your date after, FastRoad Pro™ coilovers will all ways keep you composed.
Each application we offer is individually tailored to its chassis. During on chassis testing we monitor multiple conditions with our data acquisition systems to confirm the suspension and vehicle dynamics. Valving is then verified with our in-house Roehrig® dynoes.  Springs rates are carefully chosen to provide a balance between blistering performance and remarkable comfort. We don't believe in settling for off the shelf valving, and neither should you.
Engineered in-house in California, FastRoad Pro™ coilovers are hand-assembled using a network of quality suppliers located in North America, Europe, and Asia. Each shock is verified for performance on a shock dyno before being sent out. FastRoad Pro™ is a one and done suspension solution for the discerning sports car enthusiast that is made to last.
| | | |
| --- | --- | --- |
| New Column | New Column | New Column |
| Usage | Front | Rear |
| Daily Driver/ weekend Canyons/Some track | 7k Prog. |  4.7K BGRS Swift  |
| Mostly track / Some Daily | 7K Swift Spring | 5.5k BGRS Swift  |
| Track / Drift focused | 8k Annex Spring | 6K Annex Springs |
| Track / Drift focused | 8k Swifts Spring | 6K Annex Springs |
| | | |
| --- | --- | --- |
| New Column | New Column | New Column |
| | Front | Rear |
| Spring Rate | 8kg | 6kg |
| Spring Length | 180mm | 180mm |
| Spring Type | Progressive | Linear |
New Column
New Column
New Column
Front
Rear
Upper Mounts

Camber

N/A

Koyo® 

Bearings

Yes

No

Damper Extension

No

No
Tuned for Blistering Performance without Sacrificing Comfort 

Proprietary Road Noise Isolators

24 Position, Wide damping Adjustment Range

Extremely Corrosion Resistant NiCr Shock Bodies

Monotube Damper for Performance and Durability 

Spring Perches with Koyo® Bearings where Applicable 

T6 6061 Aluminum Mounts and Camber Plates

Brake Line and ABS Wire Brackets where Applicable

Premium Italian Damper Oil

Heavy Duty Dust Boots

Rebuildable and Revalveable in the U.S.A

1 Year Manufacturer Warranty
Check here for more Product Information
CALIFORNIA WARNING: This products contains chemicals known to the State of California to cause cancer, and birth defects or other reproductive harm. For more information, please visit www.P65Warnings.ca.gov
| | | |
| --- | --- | --- |
| New Column | New Column | New Column |
| Make | Model |  Year |
| Toyota | Corolla AE86 (SR5/ GTS) | 1983 |
| Toyota | Corolla AE86 (SR5/ GTS) | 1984 |
| Toyota | Corolla AE86 (SR5/ GTS) | 1985 |
| Toyota | Corolla AE86 (SR5/ GTS) | 1986 |
Toyota 1983-1987 AE86
Sale price Price $1,495.00 Regular price $1,495.00
PRODUCT SPECIFICATIONS AND FITMENTS


COROLLA AE86 SPRING RATE GUIDE
If you need assistance looking for the perfect spring rate set up for your AE86, please refer to our recommended spring rate options below. You can always contact us if you have any questions or request custom spring rates for your vehicle set up.
SPRING RATES FOR DIVORCED (OEM STYLE)
| | | |
| --- | --- | --- |
| Usage | Front | Rear |
| Daily Driver/ Weekend Canyons/Some track | | |
| Mostly track / Some Daily | | |
| | 8k Annex or Swift Springs | |
SPRING RATES FOR TRUE REAR
| | | |
| --- | --- | --- |
| Usage | Front | Rear |
| Daily Driver/ Weekend Canyons/Some track | | |
| Mostly track / Some Daily | | |
| | 8k Annex or Swift Springs | |
FastRoad Pro is available in True Rear or OEM / Divorced spring configuration. The AE86 Corolla was developed with a divorced suspension set up. The rear of the chassis spring is mounted on a separate adjustable spring perch compared to True Rear which has the spring installed as one whole unit throughout the entire chassis.

Not sure what's the correct suspension set up for your Toyota Corolla AE86? Check out our True Rear VS Divorced break down below or contact us to find the best setup for your intended use!
Our divorced option is perfect for daily use with occasional canyon runs and track days. We wanted to develop a product that would not feel harsh or clunky at parking speeds or on the freeway. When you're at the track, dial up the damping on the 24 position dampening knob and be rewarded with firm turn-in and even greater chassis control.
Custom spring rate or Swift Springs upgrades are also available for FastRoad Pro divorced setups. Please note: 6K rear is not available for the Swift Springs upgrade.
For competitive use, True Rear can offer easier spring rate tuning options while providing performance advantages such as higher roll stiffness for a given spring rate and lower overall weight.
Rear chassis reinforcements for True Rear setups are recommended but not required. It's up to the customer to decide if the chassis is solid enough to have the weight of the rear of the vehicle resting on the rear shock tower mounts!
Made by Enthusiasts for Enthusiasts
FastRoad Pro™ for the Toyota Corolla AE86
Here at Annex Suspension Group, we have a special place in our hearts for the AE86. The team has poured countless hours at the track and sleepless nights doing research and development for this product.
FastRoad Pro™ is the BEST modern-day suspension for the classic Corolla AE86. This product was created by passionate car enthusiasts and engineers who wanted to create something better than the current suspension options in the market. By combining passion with knowledge, we made one of the most comfortable and high-performance suspension products for the AE86.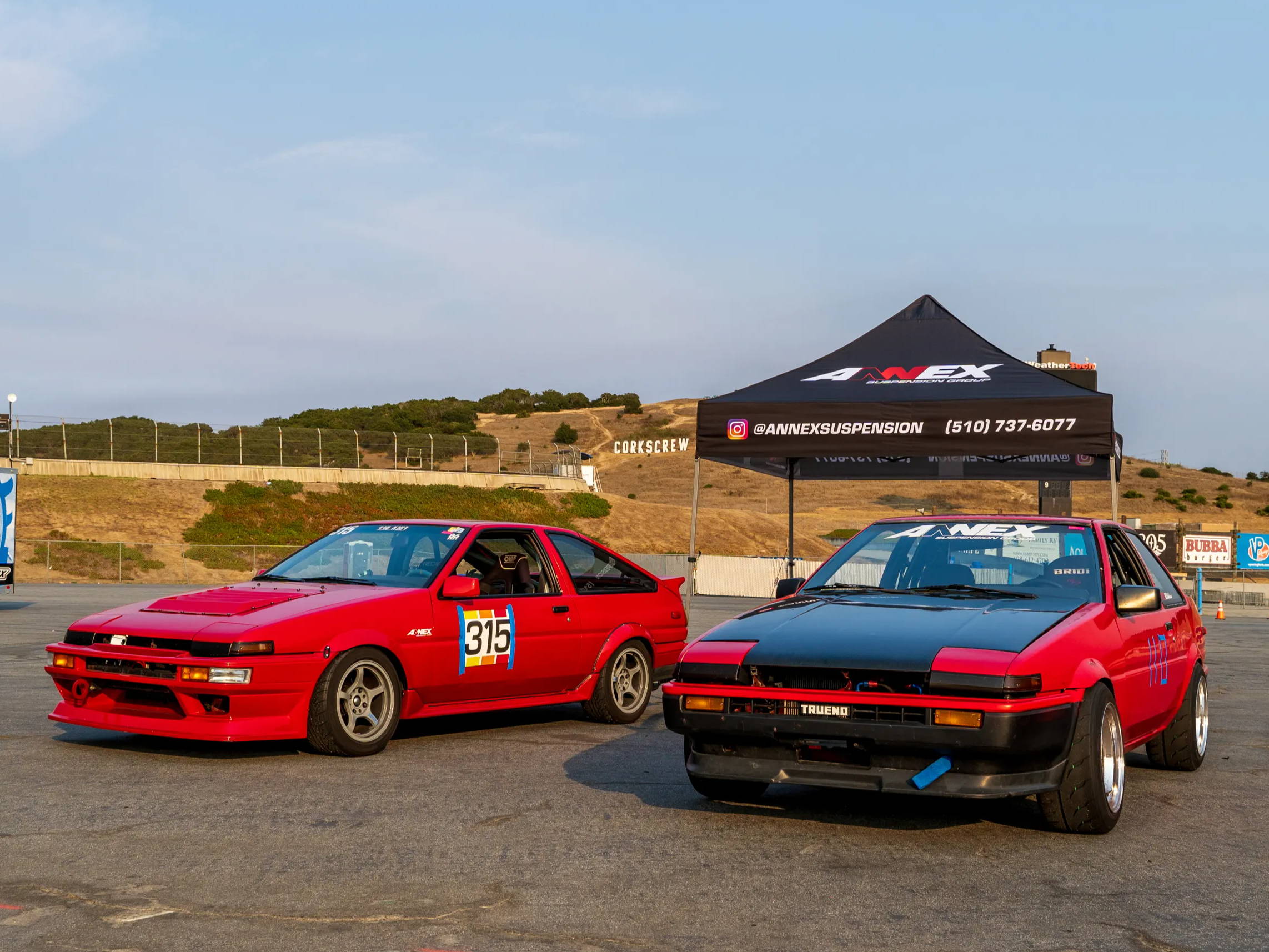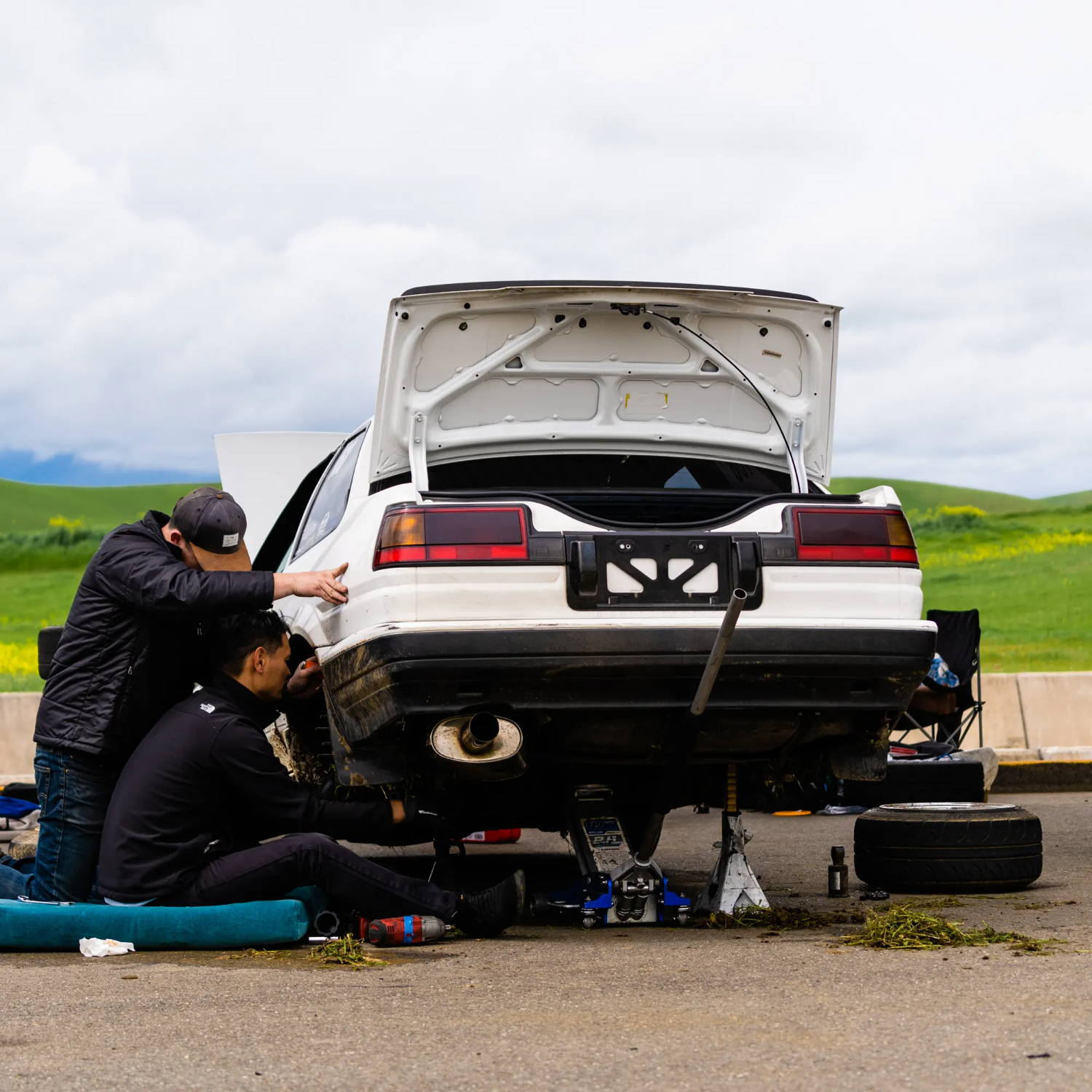 We never settle for less, so why should you?
One of our core principles is that test fitting our suspension to a car is not enough. We will never release any application before ensuring our valving, stroke, and handling balance meet our very high standards. Few of our standard procedures include the following: model the OEM suspension geometries, understand the chassis' motion ratios, then select natural frequencies and valving profiles that best match the car. Finally, we dyno test the shocks before fitting them to a live vehicle. We do all of this to ensure you are completely blown away after driving on our suspension systems.
We have tested and developed multiple setup iterations for the AE86 chassis to find the perfect blend of performance and daily usability. We did this by understanding details others seem to ignore, such as the live rear axle. The rear of the car with the heavy live axle is often where grip is limited the most. To correct this, we increased rear stroke to provide sufficient bump and droop travel and valved the dampers for the live axle's weight. We offer both divorced and true rear for the FastRoadPro™.
CHECK OUT OUR AE86 ACCESSORIES!